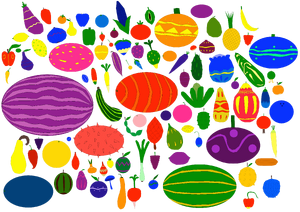 Fruits
are sweet and fleshy foods that grow in the garden of the Psymonster World. As in the real world, a large variety exists in the
Psymonster World
, with a large range of tastes and firmnesses. Fruits are the means by which these plants disseminate seeds. Many of them that bear edible fruits, in particular, have propagated with the movements of Psymonsters in a symbiotic relationship as a means for seed dispersal and nutrition, respectively; in fact,
Psymonsters
have become dependent on fruits as a source of food. Fruits account for a substantial fraction of the agricultural output, and some (such as the
Apel Fruit
and the
Pomegranite Fruit
) have acquired extensive cultural and symbolic meanings.
Ad blocker interference detected!
Wikia is a free-to-use site that makes money from advertising. We have a modified experience for viewers using ad blockers

Wikia is not accessible if you've made further modifications. Remove the custom ad blocker rule(s) and the page will load as expected.